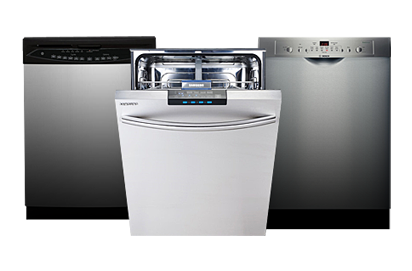 Why Choose Us?
Same-day dishwasher repair
Locally owned & operated
Repairs for all major brands
Service fee waived w/ repair
Licensed, bonded, and insured
24 Hour emergency service available
$15 Off your first service!
Same-Day Repairs
Expert Technicians
5-Star Service
Our goal is to complete appliance repairs in one trip whenever possible. We keep our vehicles well-stocked, and we'll pick up parts before appliance repair appointments whenever they're in stock with our local supplier.
All of our technicians carry insurance and are licensed to perform dishwasher repairs in the San Francisco Bay Area by BEAR. We guarantee quality workmanship and a friendly service experience.
Over the years our service has received 100+ reviews on Google, Yelp, Angie's List and other reputable business directories. Our reputation is important to us, so your total satisfaction with our service is our goal!
Bay Area Dishwasher Repair
We take pride in our reputation as one of the Bay Area's leading providers of dishwasher repair. We're able to offer same-day repairs for dishwashers on most days. Our streamlined service and transparent policies make the dishwasher repair process simple and painless.
Having dishwasher problems?
Dishwasher doesn't clean?
Dishwasher won't drain?
Dishwasher leaking?
Dishwasher overflowing?
Dishwasher touchpad not working?
Dishwasher won't start?
Dishwasher won't fill?
Dishwasher too noisy?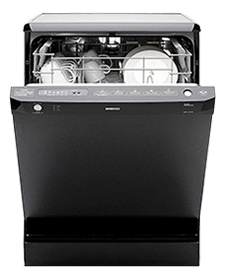 Common dishwasher repairs
Drain pump replacement
Heating element replacement
spray arm repair
Touchpad / control panel replacement
Control board replacement
Thermal fuse replacement
Detergent dispenser repair
Water inlet valve repair
We're equipped to handle all common dishwasher repair issues and service most makes and models. We do our best to keep our vehicles stocked with dishwasher parts in order to complete repairs in one trip. We can handle overflow / leak issues, electrical issues, or other operational problems.
---
New Customer Discount: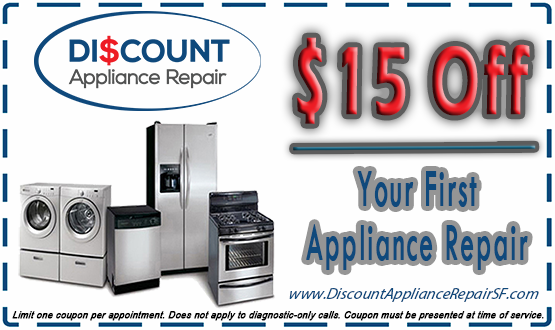 ---
Brands serviced:
We can work on nearly all brands of dishwashers, including Whirlpool, GE, Kenmore, Admiral, Jenn-Air, KitchenAid, and more. We can also work on boutique brands like Thermador, Viking, and Sub-Zero. Some of the brands we service include:

---
Service information: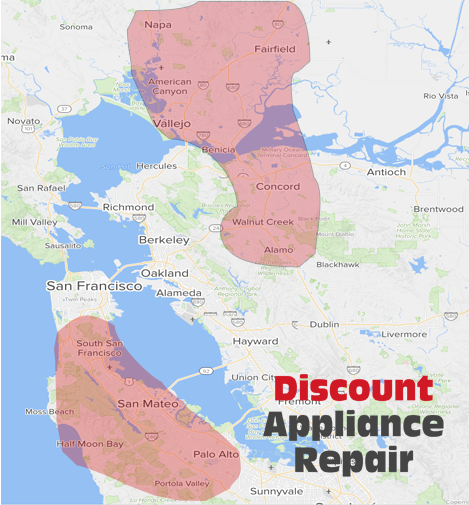 Discount Appliance Repair is licensed to repair dishwashers in California by the Bureau of Electronic and Appliance Repair (BEAR License #46121). Each of our techs is trained to handle all common dishwasher repairs before beginning independent field work — this ensures we can complete repairs in one trip whenever possible.
We serve much of the San Francisco Bay Area, including all of the Peninsula region along with much of North Bay / East Bay. Our service area is displayed to the left — some of the cities in which we offer service include:
Burlingame
Concord
Daly City
Fairfield
Foster City
Menlo Park
Napa
Pleasant Hill
Redwood City
Walnut Creek, etc
---
Featured testimonial:
A late review but I really wanted to give some props to Discount Appliance Repair! We had an issue with a loud noise coming out of the dishwasher every time we tried to use it a couple of months ago. Called Discount Appliance Repair Service to see if they could fix that. They showed up on the same day and fixed the issue without any complications. It's now been at least two months and dishwasher working like a champ!!!! Very quick and professional service. Will always recommend this company to friends and family or anyone really! Thank you Discount Appliance Repair Service!!!!

– Sergiy | San Mateo

Review Source: Yelp
We're locally owned and operated and dedicated to providing streamlined services to the residents of the San Francisco Bay Area. All of our dishwasher repairs are guaranteed, so if you experience any further problems after one of our repairs, we've got you covered.
Call us at
(707) 400-6040