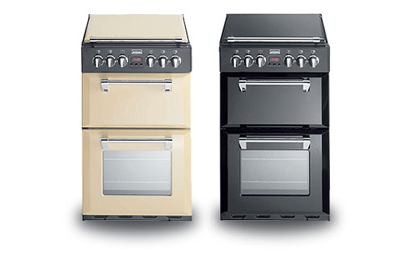 Why Choose Us?
Same-day stove & oven repair
Technician-operated repair service
Servicing all major appliance brands
Free service call w/ repair
Licensed, bonded, and insured
24/7 emergency service available
$15 Off your first service!
Same-Day Repairs
Expert Technicians
5-Star Service
Our goal is to complete appliance repairs in one trip whenever possible. We keep our vehicles well-stocked, and we'll pick up parts before appliance repair appointments whenever they're in stock with our local supplier.
We carry insurance and are licensed to perform cooking appliance repairs in the Bay Area by California's licensing authority. We guarantee quality workmanship and a professional and friendly service experience.
Over the years our service has received 100+ reviews on Google, Yelp, Angie's List and other reputable business directories. Our reputation is important to us, so your total satisfaction with our service is our goal!
Stove & Oven Repair Service
Discount Appliance Repair services most cooking appliances (ovens, stoves, ranges and cooktops). We're locally owned, dedicated to serving the residents of the San Francisco Bay Area. We run a streamlined service with same-day service available on most days — our goal is to make appliance repair simple and affordable.
Experiencing these problems?
Oven won't heat?
Oven won't turn on?
Oven door broken?
Oven self-clean problems?
Stove glass top cracked?
Stove burners sparking?
Stove heating element burnt out?
Stove won't turn off?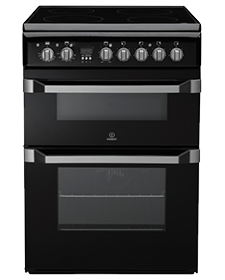 Common cooking appliance repairs
Igniter replacement
Heating element replacement
Glass stovetop replacement
Thermal fuse replacement
Control board replacement
Spark module replacement
Thermostat replacement
Oven calibration
We're equipped to handle all common problems with ovens and stoves. The most common issues we encounter include heating issues, self-clean / oven lock problems, cracked glass stovetops, sparking / burnt-out burners, and calibration issues.
---
New Customer Discount: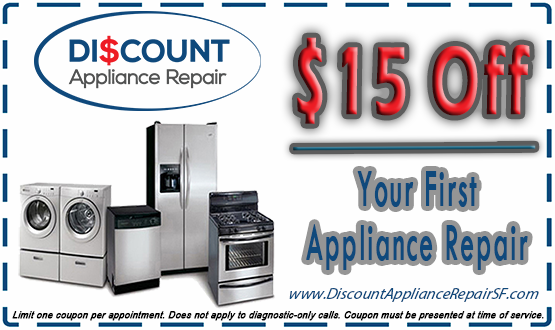 ---
Brands serviced:
Discount Appliance Repair repairs most cooking appliance brands, including Admiral, Amana, GE, KitchenAid, Maytag, and Whirlpool. We also cover several high-end brands including Viking, Sub Zero, and Wolf. Some of the brands we work on are listed below:

---
Service information: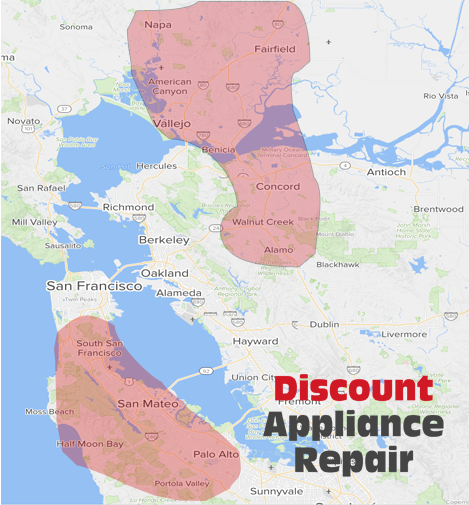 We're licensed to perform appliance repair in the Peninsula and San Francisco by BEAR (License #46121). Each technician undergoes extensive training with cooking appliances before beginning repairs independently.
Our service area covers much of the San Francisco Bay Area, including the entire Peninsula region along with parts of North Bay / East Bay. Some of the cities we service are listed below:
<
Burlingame
Concord
Daly City
Fairfield
Foster City
Menlo Park
Napa
Pleasant Hill
Redwood City
Walnut Creek, etc
---
Featured testimonial:
Honest, reliable, friendly, and fast! When the larger of my double ovens refused to heat up, I looked to Yelp and found Discount Appliance Repair Service. Thomas stopped by a few hours later, took a look, and knew what was the problem. He was sure he had the part we needed and said he'd be back after he finished his calls for the day. I was totally not expecting that high level of service, especially since it was almost 7:00 pm when he returned. He could have easily taken care of it the next day, but he went above and beyond. He was very friendly and helpful. Highly recommend!

– Kristina | Redwood City

Review Source: Yelp
We take pride in our reputation as one of the Bay Area's premier providers of appliance repair. We're locally owned and depend on repeat and referral business to run an efficient service. All cooking appliance repairs are guaranteed, so if you experience any problems after we've serviced your dryer, we've got you covered.
Call us at
(707) 400-6040