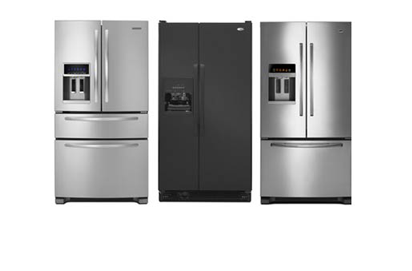 Why Choose Us?
Same-day refrigerator repair
Technician-operated repair service
Servicing all major appliance brands
Service fee waived w/ repair
Licensed, bonded, and insured
24 Hour emergency service available
$15 Off your first service!
Same-Day Repairs
Qualified Technicians
5-Star Service
Refrigerator repairs are our priority to prevent spoiled food and the inconvenience of having to transfer perishable goods. We keep our vehicles well-stocked and aim to complete refrigerator repairs in one trip whenever possible.
We carry insurance and are licensed by BEAR to perform refrigerator and freezer repairs in the San Francisco Bay Area. We guarantee quality workmanship and a professional and friendly service experience.
Over the years our service has received 100+ reviews on Google, Yelp, Angie's List and other reputable business directories. Our reputation is important to us, so your total satisfaction with our service is our goal!
Bay Area Refrigerator Repair
We repair refrigerators and freezers for homeowners and businesses in the San Francisco Bay Area. By running a streamlined service with simple policies, we make the refrigerator repair experience painless and affordable. On most days we're able to provide same-day service, saving you the inconvenience of losing or having to transfer your food.
Having refrigerator problems?
Refrigerator not cooling?
Refrigerator not dispensing water?
Refrigerator not defrosting?
Refrigerator warm on one side?
Refrigerator leaking?
Refrigerator freezing food?
Refrigerator too noisy?
Ice maker not working?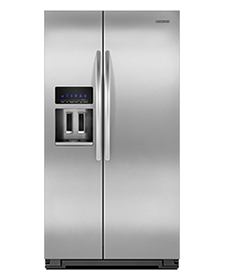 Common refrigerator repairs
Evaporator fan replacement
Condenser fan replacement
Start relay repair
Control boards replacement
Thermostat replacement
Ice maker replacement
Water inlet valve replacement
Water filter replacement
Our technicians handle a variety of refrigeration issues on a daily basis. These issues are our priority because we understand the inconvenience and expense of having to throw out food. Some of the most common issues we can help with include cooling issues, door seal problems, under-producing ice makers, and dispenser issues.
---
New Customer Discount: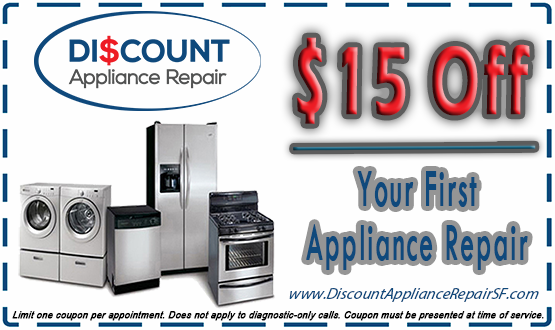 ---
Brands serviced:
We can work with most appliance makes, including Kenmore, Maytag, GE, Whirlpool, KitchenAid, Jenn-Air and others. We also work on high-end / boutique brands including Sub Zero, Thermador and Viking. Some of the brands we work on are listed below:

---
Service information: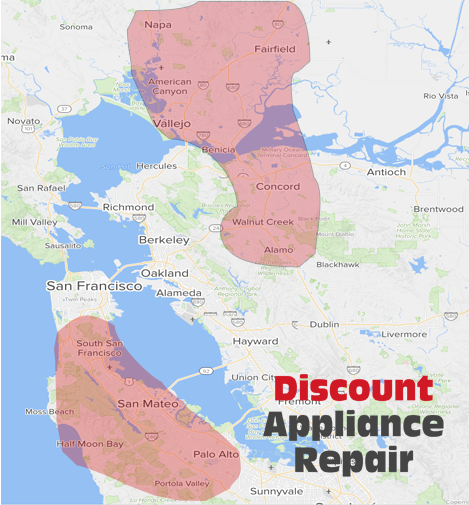 Discount Appliance Repair is licensed by the Bureau of Electronic and Appliance Repair (BEAR License #46121) to perform refrigerator repair in California. Our technicians are experienced with all common refrigeration issues.
Our service area spans much of the San Francisco Bay Area — see our service area image to the left. We offer repairs for all types of appliances in the below cities, among others:
Burlingame
Concord
Daly City
Fairfield
Foster City
Menlo Park
Napa
Pleasant Hill
Redwood City
Walnut Creek, etc
---
Featured testimonial:
Had a problem with my refrigerator lately and Thomas fixed it immediately with no hassle. He was very friendly, professional, and fast and my refrigerator was back and running in no time. His rates were fair and I would recommend him to anyone who needs appliance fixing for any brand or type. Thank you again Thomas for you excellent service 5/5

– Sean | San Francisco

Review Source: Yelp
We're a locally owned and operated repair service. We offer a simple and streamlined services — by reducing overhead we're able to pass our savings to you. We take pride in our reputation as one of the Bay Area's premier appliance repair providers. All of our refrigerator repairs are guaranteed, so please give us a call at (707) 400-6040 should you experience any problems.
Call us at
(707) 400-6040