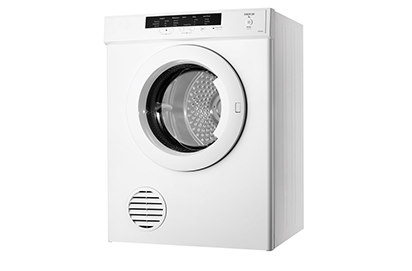 Why Choose Us?
Same-day dryer repair
Technician-operated repair service
Repairs for all major brands
Service fee waived w/ repair
Licensed, bonded & insured
24/7 emergency service available
$15 Off your first service!
Same-Day Service
Expert Technicians
5-Star Service
Our goal is to complete appliance repairs in one trip whenever possible. We keep our vehicles well-stocked, and we'll pick up parts before dryer repair appointments whenever they're in stock with our local supplier.
All of our technicians carry insurance and are licensed to perform dryer repairs for homeowners and businesses in the San Francisco Bay Area. We guarantee quality workmanship and a friendly service experience.
Over the years our service has received 100+ reviews on Google, Yelp, Angie's List and other reputable business directories. Our reputation is important to us, so your total satisfaction with our service is our goal!
Bay Area Dryer Repair
Discount Appliance Repair provides residential dryer repair in the San Francisco Bay Area. We can offer same-day repair for most dryer issues on most days. We're locally owned and operated, providing dedicated service to residence of the Bay Area.
Having these dryer problems?
Dryer won't start?
Dryer takes too long?
Dryer won't stop?
Dryer stops turning?
Dryer won't turn at all?
Dryer overheating?
Dryer doesn't heat?
Dryer too noisy?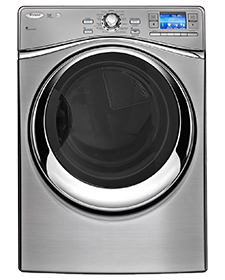 Common dryer repairs
Heating element replacement
Thermal fuse replacement
Start switch repair
Control board replacement
Drive motor repair
Drive belt replacement
Thermistor replacement
Thermostat replacement
Our techs are equipped to handle all common dryer repair issues. Dryers are simple appliances and by far the most common issues we encounter are heating and tumbling issues. We can also handle electrical issues or dryers producing excess noise or burning smells.
---
New Customer Discount: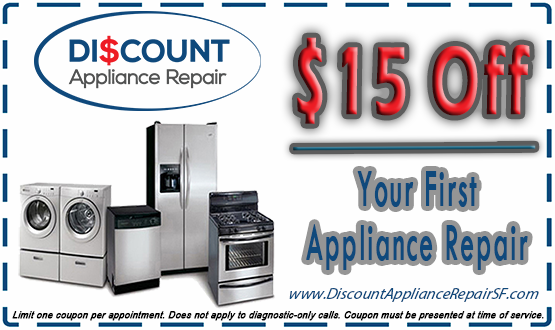 ---
Brands serviced:
Our technicians can work on all dryer makes, including Kenmore, GE, Whirlpool, Maytag, Amana, KitchenAid, and Hotpoint. We also work on many high-end brands including Thermador, Sub Zero, and Wolf. Some of the brands we service are listed below:

---
Service information: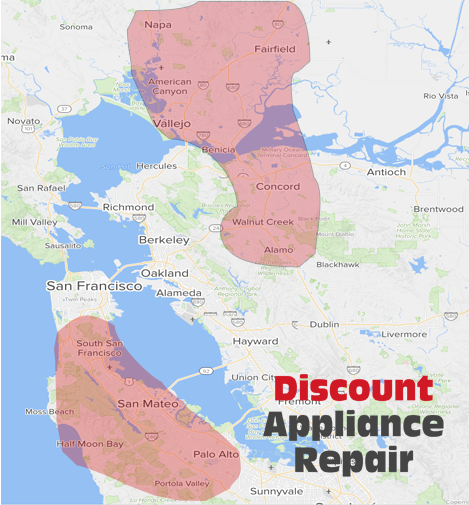 Discount Appliance Repair is licensed to perform repairs on clothes dryers in the San Francisco Bay Area by the California Bureau of Electronic and Appliance Repair (License #46121). Our technicians undergo thorough training and our goal is to complete dryer repairs in one trip whenever possible.
Our service area spans much of the San Francisco Bay Area, including most of the Peninsula region, parts of North Bay and East Bay. Some of the cities we serve include:
Burlingame
Concord
Daly City
Fairfield
Foster City
Menlo Park
Napa
Pleasant Hill
Redwood City
Walnut Creek, etc
---
Featured testimonial:
Had Thomas, the owner of Discount Appliance Repair, come out and fix my Maytag stackable dryer. Dryer turned on and spun, but it didn't heat very well. Called him in the morning. He was super responsive by phone, had a good attitude, and was able to give me an appointment for the same day in the afternoon. Asked me what make the dryer was so he could bring parts.

When he arrived, Thomas diagnosed the problem (blower/fan was off center and needed replacement) very quickly and spent about 1.5 hours taking the machine apart, cleaning, and reassembling. Thomas is very knowledgeable and seems like a good guy. Even diagnosed the problem we were having with our stove. 🙂

– JP | San Francisco

Review Source: Yelp
We're a locally owned and operated repair service, based in the Bay Area. We take pride in our workmanship and the personal service we provide to our customers. Each dryer repair is guaranteed, so if you experience any issues just give us a call and we'll make things right.
Call us at
(707) 400-6040